240 Accelerated Testing: ESS, HALT and HASS
FOR WHOM INTENDED: This course is for individuals such as quality and reliability spe­­cial­ists who specify screens and in­ter­pret re­sults, project managers wishing to reduce life cycle costs, production and inspection managers whose people screen and interpret results, environmental test specialists who help develop optimum screens, and design engineers using stress testing for product development and design verification.
BRIEF COURSE DESCRIPTION This course shows why Environmental Stress Screening (ESS) and its modern descendents, HALT (Highly Accelerated Life Testing) and HASS (Highly Accelerated Stress Screening) are important steps in the development, design and manufacture of both commercial and military systems that require high-reliability performance. It demonstrates the pur­pose of screening, which is to precipitate and make visible any existing latent flaws. Well-screened systems have greatly improved mean time between failure (MTBF) rates, their life cycle costs are lower, their re­liability is high­er. Environmental Stress Testing and HALT have long been used in the development and design of new products.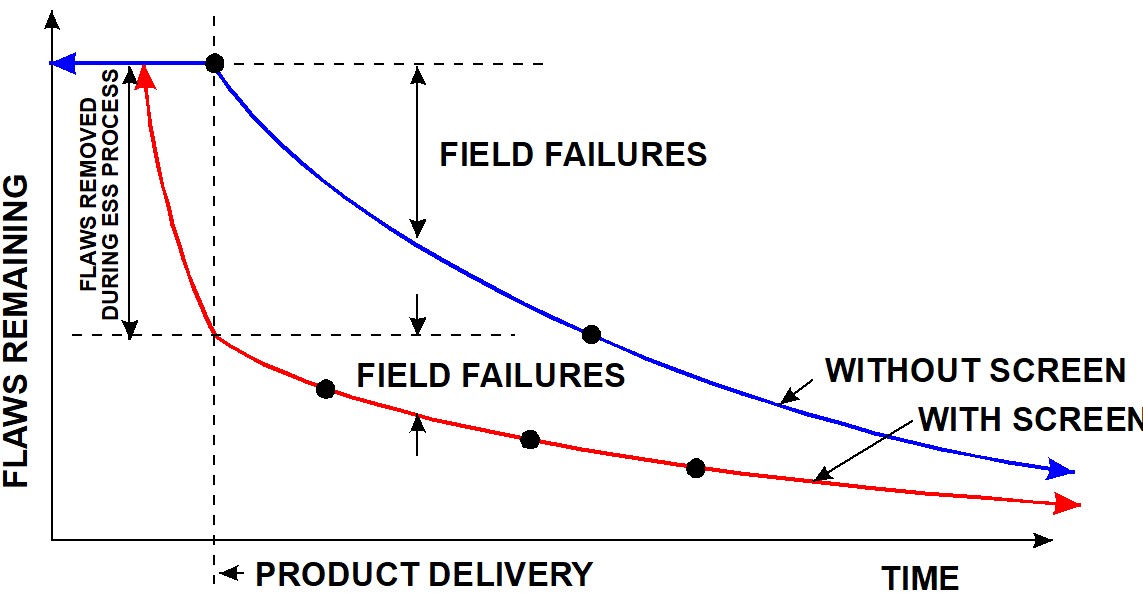 This course addresses thermal and vibration environments and test facilities, how to prepare before performing HALT, and how to run HALT tests. Single-environment tests are discussed, and then combined environments. Fixturing, HALT profile writing, failure types and analysis and data analysis topics are considered. The HASS section of the course shows how to develop an effective screening process. The course concludes with a discussion of HALT/HASS specifications.
The course is presented as a series of highly-interactive lecture/discussion sessions. Problems for individual and group solution are interspersed throughout the course to act as training aids and to evaluate class progress. There will be a class exercise in writing a HALT profile—class members will give suggestions while five common profiles are written in a user friendly interface.
Special-interest discussions are encouraged outside of the regular course sessions.
PREREQUISITES TTi recommends that this course be taken after Course No. 116, Fundamentals of Vibration For Test Applications and either Course 230, Climatic Test Techniques or Course 425, Environmental Testing Procedures.
DIPLOMA PROGRAMS This course is required for TTi's Climatic Test Specialist (CTS) and Mechanical Design Specialist (MDS) diploma program. It may be used as an elective for any other TTI specialist diploma program.
Text Each student will receive 180 days access to the on-line electronic course workbook. Renewals and printed textbooks are available for an additional fee.
Internet Complete Course 240 features almost ten hours of video as well as more in-depth reading material. All chapters of course 240 are also available as OnDemand Internet Short Topics. See the course outline below for details.
Course Hours, Certificate And CEUs Class hours/ days for on-site courses can vary from 14–35 hours over 2–5 days as re­ques­ted by our clients. Upon suc­cessful course completion, each partici­pant re­ceives a certi­ficate of completion and one Con­tinu­ing Edu­ca­tion Unit (CEU) for every ten class hours.
Click for a printable course outline (pdf).
---
Course Outline
Chapter 1 - Introduction to Environmental Testing
Test Objective
Environments
Tailoring
Integrated Product or Process Teams
Documentation
Chapter 2 - Environmental Stress Screening (ESS)
History
Myths
Flaw Populations
Failures vs. Cycles
Quantitative Verification
Test Strength
ESS Process Plan
How to Design an ESS Process
Process Control
Limits
NAVMAT P-9492
Sample ESS Profiles
ESS & Reliability
Rules
Chapter 3 - Environmental Forcing Functions: Vibration
Best Forcing Functions?
Sample Requirements

Example of Clients' Additional Requirements

Effects of Vibration
Types of Shakers Used in ESS

Repetitive Shock vs. E-D Shaker

Properties of an Efficient Vibration Screen
Selecting Vibration Screen Development Method
Axes of Excitation
Screen Duration
ESS Methods

Tailored Response
Step Stress
Fault Replication
Heritage
% Useful Life

Nine Hidden Vibration Test Assumptions
Screening Configurations
Screening Effectiveness
Level of Assembly
Chapter 4 - Environmental Forcing Functions: Thermal and Others
Thermal Environments

Constant Temperature

High Temperature Burn In and Electrical Stress

Power Cycling
Thermal Cycling

S-N Curve
Typical Endurance Limits
Thermal Profile
Commonly Used Temperature Ranges, Rates of Change
Thermal Shock
Thermal Survey
Dwell Times

Power-on vs Power Off Dwell Times

Combined Environments
Chapter 5 - HALT: Highly Accelerated Life Testing
Test Time Compression
Assumptions: The Horsepower Behind Accelerated Testing
Reduced Test Time? Not Always
What Does an Accelerated Test Accelerate?
Information Customers Need
Different environments produce different results
Types and Rates of Test Time Acceleration
Effects of

Vibration
Thermal Cycling
Humidity
Power cycling

Are accelerated tests always shorter?
"Life" Tests

Fatigue life vs. service life

Accelerated Test Cautions
Chapter 6 - Equipment Needed for a HALT Test
Liquid nitrogen

Reasons for Using
Properties
Equipment for handling LN2
Offgassing
Prolonging liquid state
Safety

Repetitive Shock Vibration

Repetitive Shock Equipment

Safety
Sensor attachment
Special Equipment for Humidity
Chapter 7 - Performing HALT: Highly Accelerated Life Test
When to Use HALT
HALT considerations

How Many Samples?
Margins

How to run the tests

The test series
Single environments
Combining environments wisely
Sensor Placement
Fixturing

Tests and Profiles

Cold Only
Heat Only
Cycling
Vibration
Combined Test
"Super HALT"

Failure types for each test above
Samples

HALT with not enough samples
Safest Practice
Why Reuse is Dangerous

Data analysis
Non-Electronic/Visual Monitoring
Test reports
Chapter 8 - HASS: Highly Accelerated Stress Screening
Comparison with ESS
Writing a HASS Profile

Example: Finding HASS Limits

Two main styles of HASS screens
Differences in Profiles
Ramp Rates and Dwell Times for Two Types of Cycles
Number of Cycles
Guidance for sampling
Chapter 9 - Specifications for HALT & HASS
IEST Recommended Practice (Draft)
Common Mistakes (from RP)
HASS Process Without Prior HALT
appendix A - Glossary of Terms and Acronyms
Appendix B - Overview of Accelerated Testing Analytical Models
Appendix C - Draft Statement of Work for Generic ESS Process Development
Appendix D - A Brief History of ESS
---
Summary, Final Review
Award of Certificates for Successful Completion
Click for a printable course outline (pdf).
Revised 180913