116 Fundamentals of Vibration for Test Applications
Applications Random vibration and shock are important in most engineering applications where the product is ex­posed to transportation and to possible vibration and shock during service. An understanding of vibration and shock is crucial to improving the reliability of today's products, wher­ever electronic components appear.
For Whom Intended Many engineers need specialized edu­cation to properly measure, quantify, and analyze this generally unfamiliar environment and to reproduce it in environmental test laboratories. This course is for test laboratory managers, engineers and technicians. It also helps quality and reliability specialists and acquisition personnel in gov­ernment and military activities and their contractors. It is designed to serve the needs of person­nel in a wide range of industries where equipment problems may be encountered during the shipment and use of their product.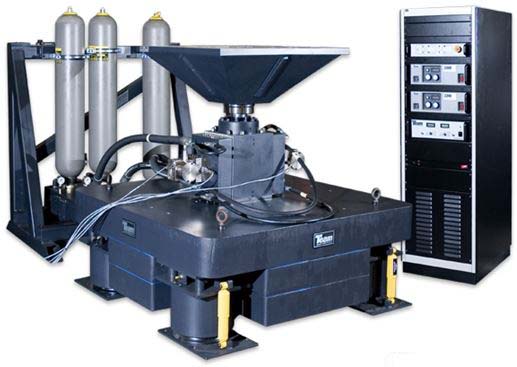 Brief Course Description This course covers a wide range of topics associated with vibration and shock applica­tions in order to enable the course participants to acquire a basic understanding of the complex field of vibration and shock. Each of the subject areas covered in this course have expanded coverage in their own three day courses for those individuals who need a more thorough understanding for their application.
Lectures and videotaped physical demonstrations show for exam­ple: how structures behave when mechanically excited, how to use pickups to sense input and response forces and motions, how to read out and evaluate the resulting electrical signals.
The course commences with an introduction to vibration and its ef­fects and then proceeds to cover the basic theory needed to under­stand the material covered during the course. Mathe­matics are kept to the minimum necessary for the concepts of vibration to be under­stood. The theory of dynamics is covered, including the relation­ships between displacement, velocity and acceleration. Electronic filters are covered, and then random vibration theory. Test equipment is discussed next, including the var­ious types of vibration exciters, along with test fixtures and power amplifiers.
The course next presents some basic theory of measurement systems before addressing vibration measurement and data acquisition. Spectral analysis and transforms are discussed before covering sine and random vibration testing, mech­anical shock applications and environmental specification and standards.
Diploma Programs This course is required for TTi's Environmental Engineering Specialist (EES) and Dynamic Test Specialist (DTS) Diploma Programs and may be used as an optional course for any other TTi Diploma Program.
Related Courses Course 116-117 includes content from this course and Course 117, Fundamentals of Vibration for Design Applications. These courses (or any TTi course) may be presented onsite at your organization, for a group.
Prerequisites There are no definite prerequisites. Super­vis­ors are in­vited to tele­phone or e-mail TTi on prospective atten­dees' back­grounds and needs.
Text Each student will receive 180 days access to the on-line electronic course workbook. Renewals and printed textbooks are available for an additional fee.
OnDemand Internet Complete Course 116 features over fourteen hours of video as well as more in-depth reading material. All chapters of course 116 are also available as OnDemand Internet Short Topics. See the course outline below for details.
Course Hours, Certificate and CEUs On-site cour­ses can vary from 14–35 hours over 2–5 days as re­ques­ted by our clients. Upon suc­cessful course completion, each partici­pant re­ceives a certificate of completion and one Con­tinu­ing Edu­ca­tion Unit (CEU) for every ten class hours.
Click for a printable course outline (pdf).
---
Course Outline
---
Summary
Final Review
Award of certificates for successful completion
Click for a printable course outline (pdf).
Revised 2/18/2019