166/164 Applied Measurements for Electrical Instrumentation
For Whom Intended Engineers, scientists, and managers, as well as aides and technicians. This course will be of interest to personnel involved in making or understanding experimental test measurements. Some background in electronics is helpful but is not essential. The course will be tailored to student objectives.
Objectives This course provides a basic understanding of electrical measurement systems, as well as the engineering concepts for the whole measurement system.. It provides an introduction to the many varieties of meters, 'scopes and transducers available, their operating principles, strengths and weaknesses. A variety of measurands and device types is covered, as well as signal conditioning, recording and analysis. It covers climatic measuring systems and reviews dynamic theory, which is essential for a better understanding of the measurand under consideration.
One of the course objectives is to give students enough applications information that they can select optimum meters, transducer, amplifier, recording and readout devices to assemble a system for routine measurements of electrical phenomena. The problems of signal noise, accuracy and error are covered in some depth before continuing on to spectral analysis, sampling and discussion of aliasing problems, filter types and anti-aliasing solutions.
The uncertainty surrounding the value of the measurand is discussed and an introduction to statistics as applied to engineering is covered.
One of the most difficult tasks for the measurement engineer is the selection of the proper instrumentation system. A procedure for attaining this goal is discussed and a typical instrumentation selection list developed.
While calibration is beyond the scope of this course, a procedure for calibrating a sensor device is developed and discussed.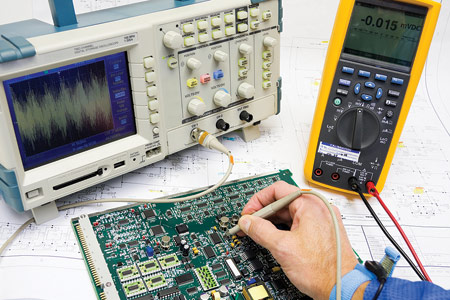 Brief Course Description Mainly lectures, supported by slides, transparencies, videotapes and sample hardware. Students are expected to participate in classroom discussions, as well as read text materials and class notes.
The course emphasizes a non-mathematical approach to understanding concepts and mechanisms.
Participants are encouraged to bring a specific measurement problem to class for discussion.
DIPLOMA programs This course is required for TTi's Electronic Design Specialist (EDS) and Mech­ani­cal Design Specialist (MDS) Diploma Programs. It satis­fies the course 164 or 166 requirement(s) for TTi's Data Acquisition & Analysis Specialist (DAS), Electronic Telecommunications Specialist (ETS), Instrumen­ta­tion Test Specialist (ITS) and Metrology/Calibration Spe­cial­ist (MCS) Diploma Prog­rams, and may be used as an elective for any other TTi diploma program.
Related Courses Course 164/166 combines Course 164, Electrical Instrumentation for Test & Measurement with course 166, Applied Measurements. Course 163, Instrumentation for Test and Measurement covers some of the same material, with more emphasis on dynamics.
Prerequisites There are no definite prerequisites, but participation in TTi's course Electronics for Non-Electronic Engineers or the equivalent would be helpful. This course is aimed toward individuals actively involved in related technical fields.
Text Each student will receive access to the on-line electronic course workbook, including most of the presentation slides. An initial subscription is included in the price of the course and renewals are available for an additional fee. Printed textbooks are also available for purchase.
Course Hours, Certificate and CEUs Class hours/days for on-site courses can vary from 21–35 hours over 3–5 days as requested by our clients. Upon successful course completion, each participant receives a certificate of completion and one Continuing Education Unit (CEU) for every ten class hours.
Internet Complete Course 166/164 features over 14 hours of video as well as more in-depth reading material. All chapters of course 166/164 are also avail­able as OnDemand Internet Short Topics. See the course outline below for details.
Click for a printable course outline (pdf).
---
Course Outline
---
Summary and overview
Final Review

Award of Certificates for successful completion
Click for a printable course outline (pdf).
Revised 180807