157 Fixture Design for Vibration and Shock Testing
This course incorporates a me­chanical design fundamentals segment equivalent to course 310, "Mechanical Design for Product Reliability," which may be taken by itself. Another version of course 157 (course 157-3) is a standalone course, intended for on-site presentation.
For Whom Intended This seminar is intended for dynamics test and evaluation personnel desiring an understanding of practical approaches to the design and fabrication of test fixtures used in vibration and shock testing. Tooling Engineers responsible for fixture design need this training.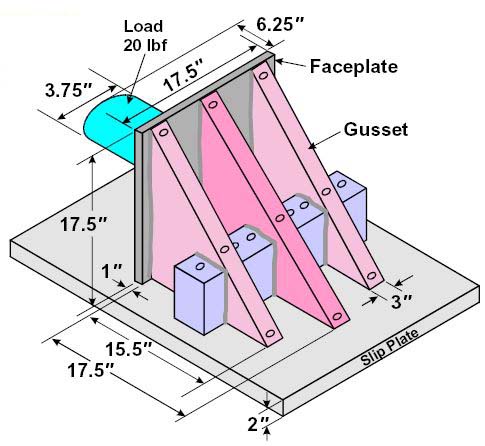 Quality Assurance and Reliability specialists will find the course useful. So will test and instrumentation specialists. The writers of specifications for environmental tests and for manufacture of fixtures will benefit from knowledge of practical limitations that exist. Product designers who are seeking solutions to vibration and shock problems will also find the course helpful.
A fixture designer must be able to design a test fixture that will transmit the intended input forces directly to the Device Under Test. To accomplish this, a designer must have specific skills as well as an understanding of vibration and shock, structures, dynamic theory, materials and fabrication.
Brief Course Description The course commences with an intro­duction to vibration and then covers basic dynamics theory in­cluding relationships between displacement, velocity and accel­eration. Dunker­ley's and Ray­leigh's meth­ods are introduced, with exam­ples. Damping, trans­mis­si­bi­lity ratio and resonance stacking are addressed. The course then covers basic structural theory: tension, com­pression, stress, strain, tor­sion and mo­ments of iner­tia. Exam­ples show the torsional shape factors of different struc­tures.
The instructor then ad­dresses fre­quen­cy and stiffness of beams, plates and gus­sets, pro­viding useful graphs, formu­las and examples. Bolted connections are covered next. Use­ful data on struc­tures, bolted connections etc., is inclu­ded in the course work­book which will be an invaluable reference tool back at the work­bench.
Modal analysis is then discussed, with men­tion of multi-degree-of-free­dom systems, modes and com­plex systems. Measurement and fixturing for modal analysis and testing are covered, before moving on to me­chan­ical shock and its design implications. Methods of isolating assemblies from shock and vi­bra­­tion are covered.
Fatigue is covered, including discussion of crack growth rates, fracture mechanics, the S-N curve, and the use and abuse of ac­celerated testing, including Miner's hypothesis.
Material selection is then covered, with information on over­all and design-limiting material properties. Tools are pro­vided for com­paring different materials. The design funda­men­tals seg­ment covers gen­eral design sug­ges­tions, such as methods for in­creas­ing na­tural frequencies.
The course then moves on to a brief dis­cus­sion of ran­dom vibration, inclu­ding power spectral density theory. The concept of RMS acceleration is dis­cussed, followed by a basic introduction to shakers and vibration testing.
General considerations in fixture design are dis­cussed next, along with an in­troduction to instrumentation and sinu­soi­dal vibration testing, as they apply to the fixture de­sign and evaluation process.
The course outlines a variety of strategies for attaching test items to fixtures, from the simplest adaptor plates to massive custom-designed cast and welded fixtures. Prac­tical simplified designs and fabrication techniques, including bonding, bolting and welding, are discussed and class pro­jects are undertaken to de­sign some typical fixtures.
Diploma Programs Course 157 is required for TTi's Dynamic Test Specials (DTS) Diploma program. It may be used to satisfy the course 310 requirement in the Mechanical Design Specialist (MDS) Diploma or as as an optional course for any other TTi specialist diploma program.
Related Courses Course 157-3, a standalone version of 157 including portions of course 310, is available for on-site presentation to experienced designers.
Prerequisites A TTi Fundamentals of Vibration course would be helpful. Participants will need first-year college mathematics (or equivalent experience) and some facility with fundamental engineering computations. Some familiarity with electrical and mechanical measurements and vibration will be helpful, as will an understanding of and familiarity with tooling and manufacturing.
Text Each student will receive 180 days access to the on-line electronic course workbook. Renewals and printed textbooks are available for an additional fee.
Course Hours, Certificate and CEUs Class hours/days for on-site courses can vary from 14-35 hours over 2-5 days as requested by our clients. Upon successful course completion, each participant receives a certificate of completion and one Continuing Education Unit (CEU) for every ten class hours.
OnDemand Internet Complete Course 157 features over 24 hours of video as well as more in-depth reading material. All chapters of course 157 are also available as OnDemand Internet Short Topics. See the course outline below for details.
---
Course Outline
---
Final Review
Conclusion
Award of Certificates for successful completion
Click for a printable course outline (pdf).
Revised 6/23/18