537 Geometric Dimensioning & Tolerancing (GD&T) Applications and Tolerance Stacks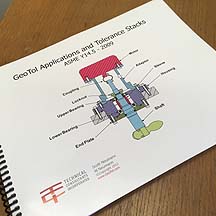 For Whom Intended Course 537 is an advanced course for design engineers, drafters, manufacturing engineers, quality engi­neers and others involved with tolerance analysis or drawing re­view. Anyone who needs to understand how to apply geo­metric tolerancing and perform tolerance analysis will greatly benefit.
Brief Course Descrption People may understand the fun­da­men­tals of GD&T such as datums, position with MMC and RFS mod­ifiers, parallelism, profile etc. However they may lack the intimate know­ledge of how to expertly apply geometric tolerancing and perform toler­ance stacks and analysis to clearly define and optimize their pro­duct design.
Tolerance stacks are an important tool used to evaluate the variable fea­tures and dimensions of a single part or an assembly of parts. Tol­er­ance stacks are used in the calculation of fits and fit-ups, tolerance ac­cumulation/allocation, datum selection and the use of feature mod­ifiers and datum modifiers.
This course teaches personnel how to apply GD&T and perform toler­ance stacks using a series of case study problems including sheet metal, machinings, plastic parts, castings etc. The entire course is 17 units; organizations may select problems as appro­priate to customize the program to meet students' needs.
The Tolerance stacks section is designed to teach students how to cal­cu­late linear, axial and orientation stacks using parts toler­anced with ei­ther plus/minus or geometric tolerancing. Student hands-on exercises con­sist of a variety of case studies on both details and assemblies.
The remaining units contain case study examples where stu­dents must estab­lish datum reference frames and apply geo­metric toler­ancing based on clearly defined functional re­quire­ments. After­wards, they per­form tolerance stacks to ensure de­sign re­quire­ments are met. The prob­lems grad­ually in­crease in com­plexity. Students will apply con­cepts learned in early les­sons to progress to later lessons. Applications may be se­lected to match the client organization's products and processes.
Lessons in the Stacks section may be alternated with lessons in the Ap­plications section, to provide variety and make the stacks cal­cu­lations less taxing. This also demonstrates that pro­per selec­tion of the da­tums, as well as position and profile values on individual parts, have a great effect on the tolerance accumulation in the overall assembly.
This program provides creative procedures using tables and sim­ple for­mu­las to break the most complex problems into simpler seg­ments. It gives tips and suggestions on how and when to add up form, orien­tation and location variations due to varying manu­facturing processes.
Diploma Programs: This course may be used as an elective for TTi's Metrology/Calibration Specialist (MSC), or Mechanical Design Specialist (MDS) Diploma Programs, or for any other TTi specialist diploma program.
Related Courses: For an introduction to GD&T, see TTi Course 535, Geometric Dimensioning and Tolerancing (GD&T) to ASME Y14.5–2009. Course 536, Inter­me­diate/Advanced GD&T, picks up where Course 535 leaves off.
Prerequisites: Students should have completed TTi course 535, or have equivalent experience.
Text Each student will receive a course work­book, GeoTol Appli­ca­tions and Tolerance Stacks, by Scott Neumann and Al Neumann, 2012.
Certificate and CEUs Upon suc­cessful course completion, each partici­pant re­ceives a certi­ficate of completion and one Con­tinu­ing Edu­ca­tion Unit (CEU) for every ten class hours.
---
Course Outline
---
Introduction
Tolerance Stacks Section
Plus/Minus Stacks

Bilateral tolerances
Unequal Tolerances Example
Limit Tolerances
Spool Exercise
4-part, 7-part Assembly Exercises

Profile Detail Stacks

Form/Orientation Tolerance Considerations
Hub, Hole Bar & Shaft Exercises

Profile Assembly Stacks

Form and Orientation Tolerance Considerations
Cage Assembly
Loose Fit and Shaft Assembly Exercises

Boundary Detail Stacks

Calculating MMB/LMB
Position RFS/MMC/LMC Boundaries
Profile and Runout Boun­dary Exercises
Position MMC and LMC Boundary Exercises
Stack Table Data Entry Exercise
Hole Edges and Hole-to-Edge Stack Exercises

Boundary Assembly Stacks

Boundary Formula Review
Cap and Sleeve/RFS/MMC Exercises
Alignment Assembly Pin to Cage Exercise
Stack Table Datum Shift and Size Only (So) Exercises
Datum Modifier Evaluation Exercise
Cap/Sleeve MMB Datum and MMC Feature/Datum Exercises
Hub Assembly and Pilot Tube Assembly Exercises
Switch Assembly Exercise

Orientation Stacks

Hub and Poker Pin Exercises
Applications Section
Introduction to Design Applications:

Floating/Fixed Fastener Formulas
Projected Tolerance Zone

Specific Design Applications
Grommet Assembly
Powder Case Assembly
Fuel Cooler Bracket
Valve Assembly
Step Bracket Assembly
Regulator Mounting Bracket
Optic Connector Assembly
Mixer Assembly
Alternator Bracket
Link Assembly
Summary and Review
Award of Certificates for Successful Completion